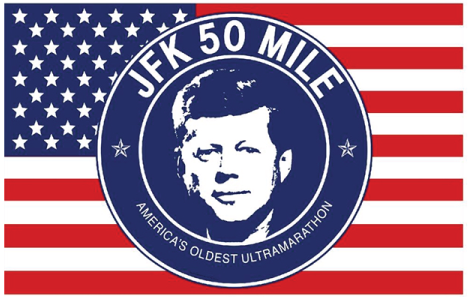 The 54th Annual JFK 50 Mile is scheduled for Saturday, November 19, 2016.
(new website coming soon!)
REGISTRATION
Registration for the 54th Annual JFK 50 Mile will open on March 1, 2016.
—-
QUALIFYING
Entrants will need to have finished a marathon, within 24 months of the 2016 race date, in 5:00:00 or faster. Qualifying times will also be accepted for 50K (6:15:00), 50 miles (13:00:00) or 100K (16:30:00) performances. Runners without a qualifying performance will be able to enter as charity runners. This will require the normal entry fee and a (minimum) $500 donation to serve the charities served by the JFK 50 Mile.
—-
ENTRY FEES
$200 from March 1 through April 30
$225 from May 1 through June 30
$250 from July 1 through August 31
$275 from September 1 through October 31
$300 from November 1 through race day.
The field is limited to the first 1,200 entries.
—-
NEW FOR 2016
The JFK 50 Mile will no longer use a "Dual Start" format. The entire field will start in one mass-start at 6:30 a.m. with a 13-hour time-limit.